…predstavlja spletno aplikacijo za iskanje in brskanje po časopisnih člankih, ki so shranjeni v velikih digitalnih arhivih
…združuje uporabo rudarjenja podatkov, njihovo obogatitev in algoritme za prikazovanje velike količine podatkov, z namenom pomagati uporabniku pri pregledovanju  velike količine podatkov, ki so ponavadi shranjeni v časopisnih arhivih.
…se lahko preizkusi na SPLETNI STRANI APLIKACIJE.
…je osvojil 2. mesto za Best Demonstation Award na ESWC2012.
Brskanje in Iskanje.
Klasično iskanje z enim poljem je nadgrajeno z vmesnikom za usmerjeno iskanje, ki omogoča uporabniku lažje brskanje po arhivu in mu hkrati nudi hitrejši pregled nad arhivom. Če je uporabnikovo znanje o iskanih podatkih bolj podrobno, lahko uporabi iskanje po več dimenzijah hkrati. Rezultati iskanja so prikazani z veliko dodatnimi informacijami, ki pomagajo razumeti njihov kontekst.  Archive Explorer poizkuša združiti moč poizvedb s prednostjo algoritmov za prikazovanje večjih količin podatkov za lažje pregledovanje in transparentnost velikih arhivov.
Kontekstualizacija in  Povzetje.
Besedilo časopisnih člankov je lahko zelo dolgo ali čisto kratko. Pri pregledovanju velike količine člankov želimo, da se pregledovalec ne izgubi v neskončnih vrsticah besedila. Namesto velike vsebine teksta uporabimo samo podatke, ki smo jih pridobili z rudarjenjem. Tako lahko uporabnik ob prebiranju različih tem hitro vidi, kateri ljudje so sodelovali, katere organizacije so bile vpletene in na katerih lokacijah so se stvari odvijale. Entitete in ključne besede so uporabne za prikazovanje povezav med vsebinami različnih člankov, kar omogoča lažje razumevanje, odkrivanje in povzetje tem v časopisnih člankih.
Arhitektura.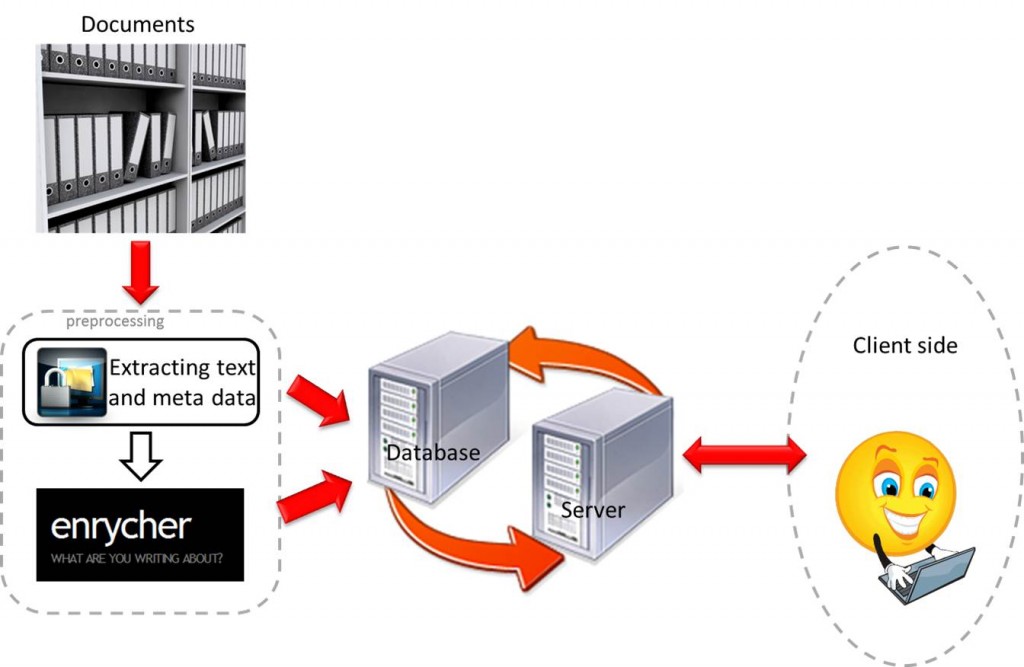 Publikacije.
ŠKRBEC, Jasna, GROBELNIK, Marko, FORTUNA, Blaž, PAJNTAR, Boštjan. Exploring History through Newspaper Archives. In Proceedings of the 14th International Multiconference Information Society, 10 – 14 October 2011, Ljubljana, Slovenia.
ŠKRBEC, Jasna, GROBELNIK, Marko, FORTUNA, Blaž. Exploring History through Newspaper Archives. In Workshop and Demo Proceedings of the 9th Extended Semantic Web Conference, 27 – 31 May 2012, Heraklion, Crete, Greece.