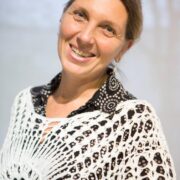 Women in Science – A documentary from 2016 on flow of enthusiast women in professions overflown by men.
Eight women working in the broad spectrum of scientific professions from artificial intelligence to programming and aviation, talk about the conditions in which they became interested in technical professions, the obstacles they confronted, and how they dealt with them.
RTV 2 archive Dokumentarni filmi in oddaje – kulturno-umetniški program, dokumentarni program
https://www.rtvslo.si/rtv365/arhiv/174458962?s=tv

The film presents:
Alja Berčič Ivanuš, female airline captain, Adria Airways [co-pilot at the time of filming];
Alja Isaković, co-founder of CodeCatz;
KaktusKaktus, sound engineer, Radio Študent;
Dr. Dunja Mladenić, head of the Artificial Intelligence Laboratory at Jozef Stefan Institute;
Maja Smrekar, intermedia artist;
Dr. Dragica Turnšek, micropalaeontologist;
Dr. Mateja Verlič, project manager during the day, programmer at night;
Larisa Vrhunc, Academic composition specialist, Faculty of Arts.